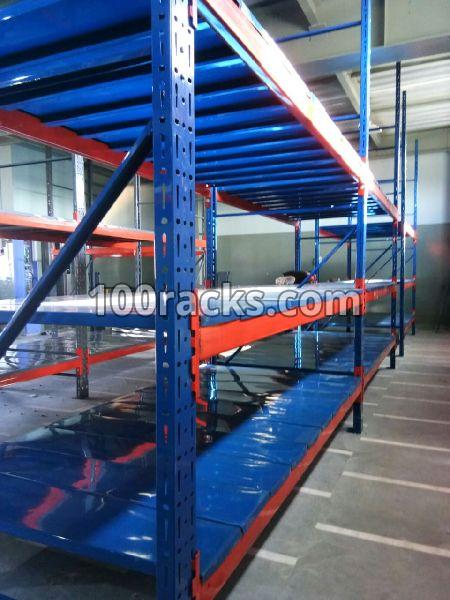 Every inch of space is precious for your facilities. It's because you have limited number of square feet office area to work within. You can surely contact the best industrial rack manufacturer in Delhi to maximize the utilization of your office space. You can get customized offers at them so that not only you are able to save quality operational space but you are able to work more efficiently. The use of industrial racks makes it easier for you to store products, to cut the shipping costs, and to increase safety of your business.

Let's take a closer look into this.

Benefits of using Industrial Racks:

• Saves space
Industrial racks can be stacked one upon another to save a huge space when they are not in use! This saves floor space as well as makes traffic flow smooth. When in use, the industrial racks can be adjusted according to the layout of the workspace as you wish for. The can easily set up to offer extreme storage density in need and when you do not need them, they will not reserve a single inch of unwanted storage space.

• Improves efficiency
When the racks are loaded with products they can offer safe loading and can easily be positioned too. Industrial racks require minimum effort for maintenance. They lessens the risks for ill-fitting of any parts and thus no chance for storage complications.

• Reduces shipping costs
The stackable industrial racks can be used for shipping which hold the shipping products upright and safely keep the products in their position during transit. As the space required is less, the shipping cost is lowered. On the return, the providers collapse all the rack units which are just a portion of the original space.

• Enhances safety
The free industrial racks can be stacked one upon another and this is safe for the workers as well as the products too. When they are kept aside, allow more floor space for machinery, forklifts and people, and thus minimize accidents risks.

Types of Industrial Racks:

Roll Racks – to store large material rolls, roll industrial racks can be used. Contacting a reputed industrial manufacturer in Delhi you can design custom racks according to the weights and sizes of your products. It is far better than the wood racks especially when the racks remain in unused conditions!

Suspended steel roll racks – if you have the business of rolled materials then you must understand that those are prone to edge fracture. For the protection of those products and maximization of storage space, suspended steel roll racks are the fittest choice. Using these racks, different width rolls can be piled together to save some extra space.

Industrial racks for storage and shipping – in case of storing or shipping forklifts, easy access is crucial. These kinds of racks can keep your products secured between facilities.

Coil racks – this kind of industrial racks offer protection to the metal coils from any sort of puncture or impact. During transit you may use customized containers with handles which eliminates the chances for strapping it down. They can store heavy weights.
Industrial rack manufacturer companies in Delhi provide other types of racks too such as open frame racks, cradle pallets, etc.