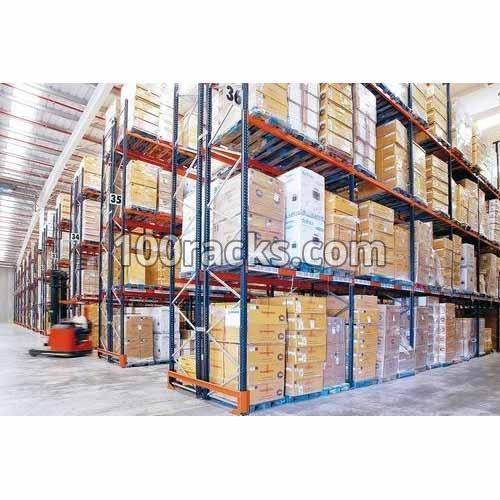 Pallet racks or pallet racking systems are the material handling storage aid systems that are designed to store materials on pallets or skids. All types of pallet racks allow for the storage of palletized materials in horizontal rows with various levels and increase the storage density of the stored materials. Usually, forklift trucks are needed to install the loaded pallets onto the racks for storage. Today, pallet racks have become a universal element of modern manufacturing facilities, warehouses, retail centers, and other distribution and storage facilities.

You can find a variety of pallet racking systems that are available with different designs to meet specific functions or create specific advantages. One can contact pallet rack manufacturer in Delhi to get different types of pallet racks like conventional pallet racking, drive-in pallet racking, mobile pallet racking, pallet shuttle, live pallet racking, push-back pallet racking, and clad-rack warehouses at very accessible prices.

Let's have a look at some of the benefits of pallet racks to find the appropriate racking system for you and for your business or company-

• They Are The Best Way To Capitalize on Warehouse Square Footage:

Pallet racks are designed in such a way that allows you to store vertically by placing pallet bays on top of each other. The maximum height of these racking systems depends on different variables like the height of the warehouse, the weight of the product, and the reach of pallet movers. With these racking systems, a warehouse can easily increase its storage capacities. In addition to providing vertical storage, the pallet racks provide different heights for each pallet level. Whether your pallets are stacked high or packed short, pallet racks are capable to fit all the required pallet sizes.

• They Provide Quick Access to All Store Keeping Units (SKUs):

If your warehouse has a wide range of storekeeping units that need to be accessed, the standard selective pallet racking system would be an ideal option. This type of racking system contains several pallet bays having one pallet each. These pallet bays have forklift access along an aisle way between rows as the rack rows are often arranged back-to-back and each aisle gives access to two rows of pallet racks. The selective pallet racks are very useful for warehouses where the store keeping unit selection is large, but each individual unit does not have a deep inventory needs.

• They Fulfill Bulk Storage Needs:

There are a number of pallet racking systems that provide the ability to store a high density of product SKUs including pallet flow racks, push back pallet racks, and drive-in or drive-thru pallet racks. These racking systems have their own advantages to specific areas of need, especially when inventory control is concerned.

Drive-in and drive-thru pallet racks fulfill more storage needs than traditional pallet racks. These racking systems used for bulk storage in each row, reducing the number of aisles required to reach product further extending storage capacities. A drive-in or drive-thru system can increase storage capacity by 3 times compared to the other pallet racking systems and 7 times compared to floor stacking. A drive-in pallet rack has the ability to provide forklift access on one side and is ideal for last in/ first-out storage systems with the deep inventory. The drive-thru pallet racks can be set up just like the drive-in system however they have the ability to allow access from both sides of the pallet bays. This setup extends the flexibility of the storage space available and provides first-in / first-out storage.

• They Provide Maximum Safety:

The biggest advantage of the pallet racking systems is that these systems ensure maximum safety for all employees working in the warehouse. Made up of high-quality materials, the pallet racks usually provide a sturdy and effective warehouse storage solution. A pallet racking system with the right capacity can handle multiple pallets in your warehouse. However, it is necessary for the employees to follow all safety factors while working with pallet racking systems so as to minimize or prevent injuries. For enhanced safety and stability, these racking systems can be fixed on the warehouse floor.